News
Accelerate your cashflow
Posted: 06 May 2015
In a typical business your cash cycle looks something like this.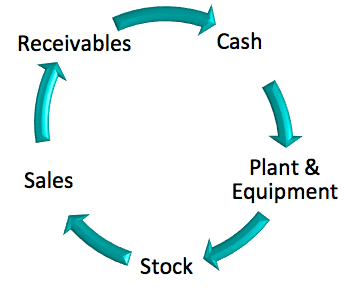 While this can vary slightly from business to business the difference would usually only be in the addition or subtraction of one piece of this cycle. In our model you start your business by investing cash, firstly in your plant and equipment, and then into stock. Next you make some sales, converting your stock into debtors. Once you are paid by your debtors it turns back into cash and the cycle begins again.
The more you can accelerate your cash cycle the faster you turn your profits into cash and the easier it is to manage your liquidity position.
Here are some tips to manage cash flow:
Plant & Equipment – don't have too much money tied up here. Avoid surplus plant and don't invest in plant that is significantly in excess of your capacity requirements. Sometimes it is a good idea to lease plant rather than having a lot of your capital tied up in this area. If you have surplus plant to your requirements consider selling it and turning the asset back into cash.
Stock – be careful about how much capital you have tied up in stock. Generally the more times you can turn your stock over in a year the more efficient and profitable you will be. Also avoid holding obsolete or slow moving stock. You should be aiming to have your stock levels as low as possible without impacting on the efficiency of your business.
Debtors – this is an area where lots of businesses have their cash tied up. You need to be on constant alert here and really police this area. Once you have agreed trading terms with a customer, ensure they stay within them. If you allow them to drift out not only are you incurring additional costs but you are also risking a bad debt – and that can really be costly to your business.
Here are a few ideas to help accelerate your cash flow cycle:
Buy stock on a consignment basis
Arrange with your suppliers to hold stock for you with the capability to deliver within a day or so of order
Keep good records on your stock position so you know exactly when you need to order replacement stock
If you have seasonal stock then be prepared to adjust your price toward the end of the season to avoid having to hold over the surplus stock
Unless there are significant quantity discounts for buying volume stock only purchase what you know you will need within the immediate future
Encourage customers to pay cash on delivery (COD) rather than operate on an account
Offer settlement discounts for account customers who will pay you within seven days
Avoid opening accounts for small customers or those who only buy from you on an occasional basis
Allow your customers to buy from you using their credit card
Always issue your invoice immediately on completion of the job
Be prepared to stop supply if a customer does not pay you within agreed trading terms
Always complete credit checks when you are opening new customer accounts
Call or Contact us us if you would like some more information.
Brisbane: 07 3421 3421 (Rob & Sam)
Sunshine Coast: 07 54748955 (John)