SMSF Strategic Advice
We are excited to announce that McAdam Siemon is expanding its service offering and are now able to provide a much wider range of advice, including SMSF advice.
To date our SMSF advice offer (via Smart Choice SMSF Administrators) has been structured to provide administration and accounting services to our clients. This is largely a compliance service to ensure your fund is established correctly and meets all the legal requirements. Due to Government regulatory changes accountants are now required to be licensed to provide any SMSF advice. (via Smart Choice SMSF Strategies Pty Ltd)
As we are always looking for a way to improve our service offering, we have decided to become fully licensed. This will not only enable us to provide SMSF advice but expand our advice services more generally.
So what does this mean for you?
This will be different for every client, dependant on your individual needs and circumstances. It essentially means we now have a wider range of services we can offer you. This doesn't mean we will be selling you financial advice products, it simply means we now have the ability and expertise to provide strategic advice if it's of interest to you.
We have included a table of how our services will be structured in future. You might notice some services previously provided by the accounting business have moved across to the advice area. This enables us to provide more comprehensive advice and ensures we are compliant with any legal requirements.
As part of the regulatory change we were required to either hold the license ourselves or become authorised with another license holder, we chose to affiliate ourselves with SMSF Advice, a leading licensee in the market.
Our licensee, SMSF Advice, is a subsidiary of the AMP Group and in partnering with them we are able to draw on in-depth knowledge of the financial services industry. We can leverage a wide range of plans, tools and training to ensure we deliver the best possible advice to you in the most efficient way.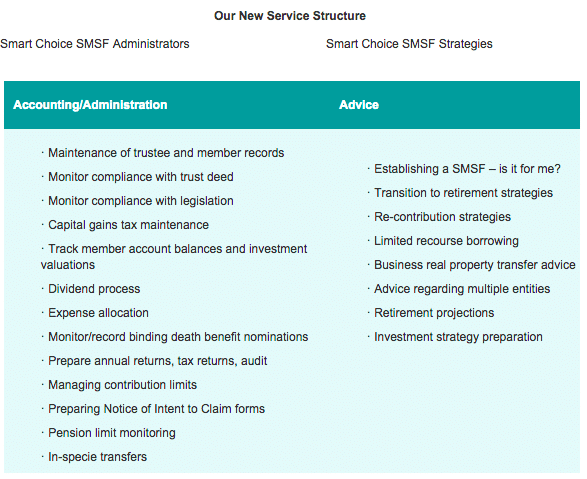 What's next?
If you have any specific questions or would simply like to know more about the options available to you, please contact the Partner or Client Manager who looks after you for a confidential discussion regarding your needs.